Can I Renew My Passport At The Post Office? // [Full Guide]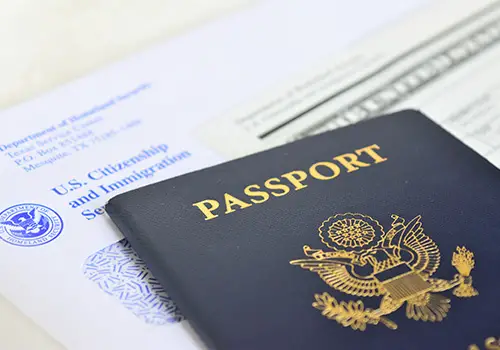 You can apply for your passport at the post office and get it quickly. If you are planning to travel out of the United States or you are trying to get a passport for the first time, the U.S Postal Service will make things easy for you. There are at least 4,800 post offices in the country that offer passport acceptance service. More than 3,100 of them can provide you with appointments through the phone. You may also use the online RCAS™ tool to schedule appointments online. The tool is a convenient way to schedule your appointments before applying for your passport.
When browsing our directory of post offices, look for the icon indicating that a post office handles passports in order to determine which location you should visit.
What Do You Need?
Bring a passport photo. Some post offices may not have photo services. It also helps you to save time when you get there. The DS-11 form is the application form for applying for a US passport. Complete it and bring it with you to the post office. Even after filling the form out, however, you should refrain from signing it until you arrive at the post office. Remember to also bring your proof of identity and citizenship.
Proof of identity may include your driver's license, military ID, or other forms of identification. If you are unable to provide your primary evidence of U.S citizenship, you may request for a File Search at a fee. Proof of citizenship may include a certified copy. A certified copy is any document with the stamp of the official issuing authority. Primary proof of citizenship includes a U.S Birth certificate; Certificate of Naturalization, Certificate of Citizenship, and Certification of Birth. Secondary proof of citizenship includes; a delayed birth certificate that was filed at least one year after birth, early private or public documents, and a Letter of No Record,
You also need photocopies of your identification documents and proof of citizenship. The photocopies will be attached to your application.
You can visit your Department of State Website to get payment detail. You cannot use credit or debit cards. You may also find your DS-11 on the website. These requirements only apply to adults and children over the age of 16. Children below the age of 16 have different requirements.
How to Apply For a Passport at the Post Office
Call First
If you have already made your appointment, you should call the post office before visiting to ensure that they are expecting you. Calling first saves you from wasting your time. You may find that your post office has discontinued its passport acceptance service.
Go At The Right Time
Plenty of people seek their passport services from post offices. There is no guarantee that you will be attended to at the exact time of your appointment. Go early just in case you need to wait in line. If possible, clear your schedule for the day because it is impossible to predict when you will leave.
Ensure That You Have All Your Documents Ready
Confirm that all your documents meet the required specifications. It would be a waste of time and effort to arrive at the post office, wait for your turn, and find out that you do not have the right documents. Ensure that your passport photos are appropriate. If your post office offers photo services, it may be advisable to take your photo there. It ensures that you get the right photo and that you do not have to travel elsewhere for them.
---
U.S. Passport Fees
A lot goes into U.S. passport fees, and it can be tough to find clear answers about what to pay online. We've broken all of this down into some basic key points.
The first thing you should know about U.S. passport fees is that they vary depending on your circumstances. First-time applicants, for example, will likely pay a different amount than individuals who are renewing existing passports.
Children under age 16 will also pay a different fee for a passport than adults over the age of 16. For this reason, it's important to identify what "category" you fit into before you start filling out that passport application.
If you are applying for a passport in another country (not the U.S.), there may be different rules and different fees. The U.S. Department of State recommends that these individuals consult their local U.S. embassy for more information about applying internationally.
You can also make select changes or corrections to your passport. These are subject to different fees, outlined below.
There Are Generally Two Passport Fees
This may sound unnecessarily confusing, but passport carriers will have to pay two separate fees to two separate institutions.
One of these fees is the application fee itself, which is paid to the U.S. Department of State.
The other is the execution fee, which is paid to a passport acceptance facility (like your post office). This is also called an "acceptance" fee.
In general, the application fee for passports is higher than the execution fee.
How to Pay for Passport Fees
You may be tempted to just whip out your credit card when you visit your post office for your passport. However, you may not be able to pay your passport fees by credit or debit card alone.
For example, most application fees have to be paid by check or money order — not a credit or debit card!
Execution fees tend to be a little more lenient. Most post offices will allow applicants to pay this fee by credit or debit card, but these may be subject to transaction fees.
We strongly recommend bringing all possible payment methods when applying. This way, you won't have to book another appointment!
What's a Passport Acceptance Facility?
The U.S. Department of State has authorized certain locations across the nation to accept passport applications. These are called passport acceptance facilities, and you'll definitely have to visit one if you are a first-time applicant.
There are over 8,000 passport acceptance facilities in America. Most of these are local post offices. However, it's also possible to apply for a passport at a county clerk office and, in some cases, a local library.
We recommend dropping by your local post office in order to apply for or renew your passport. This is by far the most common location, and most individuals have easy access to their local post offices.
Not sure where your local post office is? We have a post office locator right here on our website that can help you find a nearby location!
Passport Fees at the Post Office
Here's a complete breakdown of passport fees at the post office. Be sure to identify which situation applies to you before you submit your application!
First-Time Applicants
Are you getting your very first passport? If so, no matter what your age is, you are a first-time passport applicant.
As a reminder, if you are applying for a U.S. passport as a non-citizen, different rules and fees likely apply. Consult your local U.S. embassy for more details.
Here is the passport fee breakdown for first-time applicants visiting their local post office.
Adults
If you are 16 years of age or older, you are considered an adult first-time passport applicant. This is different from other standards, which often require someone to be at least 18 to be considered an adult.
As a first-time applicant, you will have to apply for your passport in person at a passport acceptance facility. Once again, we recommend dropping by your post office to do this.
Some post offices require you to make an appointment ahead of time. There may be walk-in passport application locations, however, so call your local post office to find out.
First-time adult applicants must fill out form DS-11 to apply for their passport. They must pay two separate fees, an execution and application fee.
If you're applying for a Passport book (the traditional booklet), adults must pay a $110 application fee and a $35 execution fee. A Passport card has a $30 application fee and a $35 execution fee.
If you want both a card and a book, you'll pay a $140 application fee and a $35 execution fee.
Children
Children below the age of 16 must apply for their passports in person, regardless of whether or not they are a first-time applicant. The good news is that passport fees are cheaper for children.
For a child's passport book, there is an $80 application fee and a $35 execution fee. For a passport card for a child, there is a $15 application fee and a $35 execution fee.
For both card and book, the application fee is $95 with a $35 execution fee.
Children under 16 must also fill out the form DS-11 to apply for their passport.
Renewals of Passports
Is it time for you to renew your existing passport? If so, good news: you don't have to go to a post office in person to update your passport.
In fact, you can only renew your passport by good old-fashioned mail. You'll also be filling out a different form than first-time applicants: DS-82.
You will still have to pay fees to renew your passport. However, you only have to pay an application fee this time — no execution fee necessary!
This saves you $35 per renewal.
To renew a passport book, you'll pay a fee of $110. To renew a card, the application fee is $30, and to renew both book and card is $140.
Do note that because you have to renew your passport by mail, you'll have to pay your application fee via check or money order only.
Changes or Corrections to Passports
The U.S. Department of State does allow you to make corrections to the information in your passport — but only some.
You can make a name change (if you get married, for example). It's also possible for the government to get some of your data wrong, such as an incorrect birthdate.
The fees vary, but you can expect to pay between $0 and $165 to change your name on your passport. Data changes are free.
Other Potential Passport Fees
You could run into a few other fees when applying for or renewing your passport. Be mindful of these before you visit your local post office.
Expedited Service
If you need to get your passport in a rush, you can pay for expedited service. This costs an additional $60.
Keep in mind that expedited service will vary depending on your reason for faster processing. If it's a life or death emergency, for example, you can get your passport within days.
If you have urgent international travel plans, you can receive your passport within 1-2 weeks.
This service is primarily for U.S.-based applicants.
1-2 Day Delivery Service
If you want next-day or two-day shipping of your passport book upon processing (not card), you can opt to have 1-2 day delivery service. This costs an additional $16.48.
---
Alongside services such as renting PO boxes, mail forwarding, and selling shipping supplies, processing passport applications is one of the key services that many post offices provide. After submitting your application, you may receive your passport in four to six weeks after your application. If you want it sooner, you may pay for expedited service. You will receive it in two to three weeks. You may pay for your new passport to be delivered overnight.
Remember that the post office locator right here on our website can help you to find the nearest post office that will help you apply for a new passport.