How To Send Certified Mail In 5 Easy Steps // US Post Office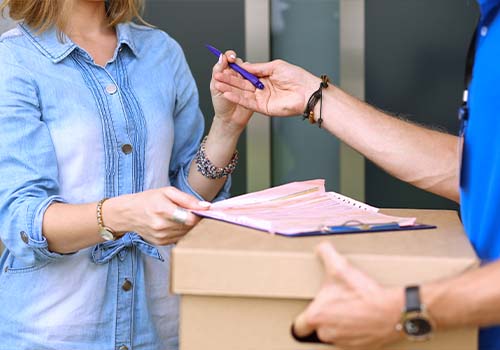 If you need to know how to send certified mail, then you probably have a letter that is very important. Certified mail is used when you need the postal service to provide proof of delivery for your item. This is often the case with legal documents or other important information. The letter will only be delivered to the intended recipient or their authorized agent, but just how does this service work? Many people do not know how to send a certified letter, so we are going to give you the steps. It is not difficult, and you can send certified mail in just five easy steps.
What Is USPS Certified Mail?
Certified mail service is a service offered by the United States Postal Service that provides proof of delivery of letters or packages. This service was first introduced back in 1955 as a means by which customers could prove that mail was delivered to the recipient. It can also be used to show proof of mailing or that delivery was attempted. In some cases, the recipient might refuse the mail; however, the post office can still prove the attempted delivery.
Certified mail can be sent using several different mail classes. You can send certified mail through regular First-Class Mail, Priority Mail, or Priority Mail Express. Certified mail is an option that is added to the regular mail service. In addition to the certified mail fee, you will also need to select a return receipt option and pay the associated fee.
A return receipt is what proves the delivery. When delivery is made, the recipient must sign the return receipt. This receipt is then returned to you, the sender. Years ago, all these receipts were paper. They were physically attached to the letter or package. The recipient would sign it, and it would then be returned through the mail to the sender. That is still an option today, although most people choose to utilize electronic return receipts. This option is cheaper and much faster. Since certified mail automatically includes a USPS tracking number and a barcode, you can check USPS.com and receive the delivery confirmation within minutes after the package or letter is delivered.
Certified mail is considered a restricted delivery option. This means that the letter carrier can only deliver the mail piece to the addressee or an authorized agent. They cannot simply drop the letter in the mailbox or on the doorstep. They must present the letter to the addressee and have that person sign the return receipt as proof that the letter was delivered to them. If delivery is missed, then the recipient will need to pick up the letter from the post office with a valid photo ID.
Return Receipt Options
As mentioned above, the return receipt is the mechanism that proves the delivery. This is where the recipient will sign for the package or letter, and this receipt will be returned to the sender with the signature. There are two options that you can select when sending a package using certified mail. You can either choose the paper return receipt or an electronic one.
When using a paper return receipt, the recipient will need to sign the receipt that is located on the letter. The mail carrier will then take that receipt and place it back into the mail. The mail receipt will be returned to you through the regular mail system. If you select the electronic option, then the recipient will sign an electronic signature pad. Within a few minutes, you will be able to view the delivery confirmation along with the recipient's signature by using the USPS tracking capability.
5 Steps To Send Certified Mail
Sending certified mail is not difficult. Most people choose to visit the local post office to accomplish this, but you can even print a certified mail label online. If you need to send a certified letter, here are the steps to take.
— Gather Necessary Information
First, there are a few pieces of information that you will need before sending your item. You will obviously need the name and address of the recipient. You will also need to provide your return address for the letter. You should go ahead and decide which type of mail service you wish to use. Will you send the letter using first-class mail or Priority Mail? Go ahead and gather the appropriate forms, like the green card, if possible. If you are unable to do this, then you can get one at the post office when you arrive.
— Decide On Return Receipt Option
Next, you will want to decide which type of return receipt that you need. Will you utilize the paper form or do you prefer the electronic option? Most people today use the electronic option because it is faster and cheaper. Going the electronic route will save you a couple of dollars, and you should have access to the receipt and signature several days earlier than the paper version.
— Complete Forms Appropriately
There are a couple of forms that you will need to complete when sending a certified letter. You will want to make sure that you fill these out appropriately or else things will not work as they should. First, you will need to complete the certified mail form or green card. You will want to address the front of this form with the recipient's name and recipient's address. Then you should address the back of the return receipt with your return address. If choosing the electronic option, then no paper receipt will be mailed back to you.
— Attach Forms To Your Letter
These forms need to be placed in the proper spots on the letter as well. The thin white strip from the certified mail form should be peeled and placed into Box 2 of the return receipt. Next, the green card should be placed at the top center of the envelope. You must place everything in the correct spot on the envelope or things will not work properly. If you need assistance, make sure to ask the postal worker for help.
— Drop Off Mail At The Post Office
Now that you have your forms filled out and attached, you can go ahead and drop off the letter at the post office. While you can print some of these forms online, you will still need to visit the post office if you need proof of mailing. If you need an extra service, you can go ahead and purchase those at the time of mailing. Congratulations! You have just mailed a certified letter!
Sending Certified Mail Online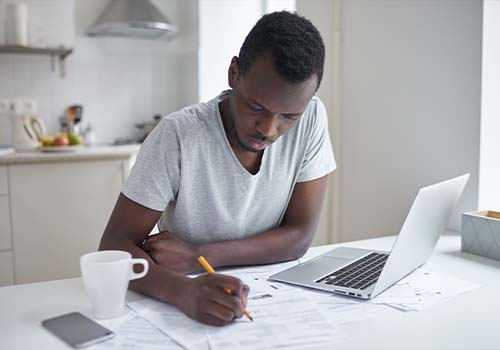 Now you can send certified mail online without visiting the post office. You can print certified mail forms from the USPS website and complete them on your own. The tracking information will automatically be included on the form, so you will still be able to check the delivery status using the tracking number that gets assigned.
Not only can you send certified mail online through the USPS website, but you can also use third-party postage providers. You should always ensure that these are reputable providers before purchasing postage or other services from them. You might even be required to scan your important documents that are going into the letter as part of the mailing process. Even though you can print all the labels online, you will still need to visit the post office if you need proof of mailing. The postal worker will stamp your mail receipt to provide this proof.
Cost Of USPS Certified Mail
So, how much does certified mail cost? It is fairly inexpensive compared to some other options – especially those offered by UPS or FedEx. The fee for sending certified mail is in addition to the regular postage needed to mail your letter. This could be as cheap as a regular stamp if sending a first-class letter or more than $26 if sending a letter via Priority Mail Express.
Once you have paid the postage, then you will need to pay a fee of $3.75 for certified mail service. On top of this, you will need to pay for your return receipt. If you choose the paper version, this will cost you $3.05. If, however, you opt for the electronic version of the receipt, you will only have to pay $1.85. The receipt will simply be delivered to your email address. As you can see, sending certified mail is not that expensive. Sending a regular certified letter can be as cheap as about $6.
Certified Mail Delivery Timeframes
Many people ask how long it takes to have certified mail delivered? The answer depends on the underlying mail service that you used to send your letter. If you sent the letter through first-class mail, then it should take 1 to 7 business days for delivery. Certified mail sent using Priority Mail will take approximately 1 to 3 business days, and Priority Mail Express only takes 1 to 2 days. When using first-class service, the amount of time that it takes for your letter to be delivered depends on how far it is traveling. The farther it must go, the longer it will take for delivery.
Since certified mail includes tracking service, you can check delivery information on USPS.com. You should be able to get an estimated delivery date there as well. Your final delivery date can also be affected by whether or not the recipient is available on the first delivery attempt. If the post office must attempt redelivery, then that will add time to the process. When it comes to certified mail vs registered mail, the registered mail service is much slower. However, it provides much more security and peace of mind.
The Bottom Line
Sending certified mail is a little complicated for some people, but it is not overly difficult. You can use this type of mail to get a return receipt service. This means that the post office will send you proof that the letter was delivered to the intended recipient. Certified mail is one of a couple of USPS services that can provide this proof of delivery. It is also fairly inexpensive, so it is a great option when you need to make certain that a letter makes its way to the addressee.
Frequently Asked Questions
How do I fill out a USPS certified mail form?
You will need to place the recipient's name and address on the front of the form. You will also need to include your return address on the back of the return receipt. This process can get a little complicated, and it is imperative that the information is placed in the appropriate spots on the forms. If you need assistance, then you should have the postal worker help you complete the form to ensure that your certified mail is sent correctly.
Do you need a stamp for certified mail?
Yes, you must attach regular postage to your certified mail. The amount of postage required depends on the size and weight of the envelope or package as well as the type of service that you are using. If using Priority Mail or Priority Mail Express, then you will need more than a single stamp.
How long does it take for certified mail to arrive?
It depends on the service that you are using to mail the letter. Certified mail typically travels along with the regular mail, so it will move at the same speed as the underlying service. This means that a certified letter sent through first-class mail should arrive in 1 to 7 business days. Priority Mail will be faster at around 1 to 3 business days. The fastest option is Priority Mail Express. It should arrive in 1 to 2 business days, but it is significantly more expensive.
How do you know that a letter is sent certified mail?
It will have a green card attached to it that must be signed by the recipient. This is basically a sticker with the recipient's address that alerts the mail carriers to the fact that it is a certified letter. In addition, a certified letter can never be left in a mailbox or P.O. Box. The letter carrier must deliver the letter directly to the recipient. Upon delivery, a signature will be required to serve as proof of delivery for the sender.
Is there a way to send a certified letter without a stamp?
No, a certified letter cannot be sent without postage. While you do not necessarily need a stamp, you could use a postage label or metered postage. Either way, you must have enough postage to cover the shipping of the letter or package. This is in addition to the certified mail fee that you must pay for the certified service.