How To Setup A PO Box // [Full Guide]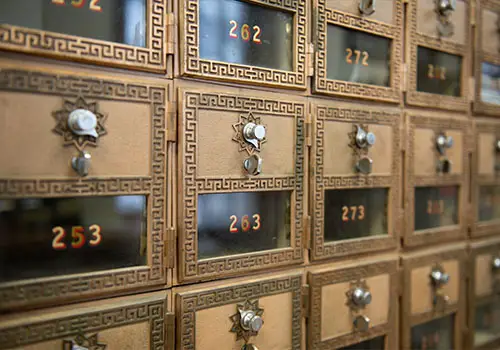 A post office box, also called a PO box, is a mailbox with a unique address that's physically located at your local post office. There are countless scenarios in which having a PO box can be highly useful, such as needing to receive letters or packages anonymously, or in any situation where distributing your home address is less than ideal.
How to Get a PO Box
Setting up a post office box is no longer as difficult as it used to be. You can even reserve your post office box online. It is convenient, and it helps to save time. The following are the steps to follow when setting up a post office box:
---
Step 1:

Pick a Location and Size

Before you get your PO box, it's necessary to find the closest post office and to know the size of the PO box that you'd like. PO mailboxes come in five different sizes, which measure:
Extra Small: 3″ x 5.5″
Small: 5″ x 5.5″
Medium: 11″ x 5.5″
Large: 11″ x 11″
Extra Large: 22.5″ x 12″
When choosing the size of your mailbox, take into account the size of letters and packages that you plan to receive as well as how often you plan to pick up your mail. If you plan on receiving magazines or large envelopes, you'll probably want to get at least a medium-sized mailbox.
---
Step 2:

Complete the PO Box Application

Method 1: In-Person – You'll need to bring two forms of identification with you to the post office that you've located. At least one of these forms of identifications needs to also include your photograph. Ask the clerk at the counter for a PO box application, which will be a variation of Form 1583. Once you turn it in and your payment clears, you'll receive keys for your mailbox.

Method 2: Online – Go to the USPS PO box application online. Search for your desired PO box location and size and then enter your contact and billing information. You'll need to submit the same information online that you do in person. Once your application has been submitted and you've selected your pay period, you will receive instructions on claiming your reserved PO box.
---
Step 3:

Forward Your Mail (Optional)

Depending on your PO box use case, this may not be necessary. However, in some situations, you may want to file a change of address form in order to forward your mail to your PO box. If you're moving and won't immediately have a new mailbox to receive your incoming mail, this can be a great way to make sure that bills, letters, and important documents or packages don't get lost in the mail system without an appropriate destination.
---
How Much Does Renting a Post Office Box Cost?
The cost of getting your post office box varies depending on your location, the size of your box, and the period you intend to rent it. Small boxes cost lower than bigger ones and if pricing can even vary from one post office to the next, depending on demand in that area. Rental periods range anywhere from three months to a year at a time. Renting a post office box for longer periods is, in the end, cheaper than renting for shorter ones, and since PO box rental occurs in three-month increments, if you decide to cancel early you can get refunded for a remaining three, six, or nine-month period.
Benefits of Having a PO Box
A Constant Address When Moving
Moving can be a difficult and tumultuous process. The USPS offers mail forwarding services to help make this process a little bit easier, but in some cases having a mailing address remain consistent throughout your move can provide an extra layer of security. If you know that you're going to have mail coming your way and you don't want to wait for the USPS change of address service to catch it, simply have it sent to your PO box instead.
Ease of Access
A post office box allows you to receive your mail at nearly any time. PO boxes are located in a section of the post office separated from where the counter and retail supplies are stored. This allows you to have access to your mailbox later than the post office itself remains open, and in certain locations PO box access is available 24-hours.
Mail Security & Safety
Using a PO box provides both personal safety, as well as security for your mail and incoming parcels. When you want to receive mail at your PO box, the address that you provide contains no identifying information about yourself. Not only do they not need to know your name, but the sender never needs to know your home address either, which can provide some people with peace of mind.
Similarly, your mail is just as safe. It's a sad fact that, on occasion, mail can become lost or stolen. With a PO box, though, you can avoid giving your neighbors and passersby physical access to your mail or your packages. If you want to make sure a package doesn't get left on your doorstep or pulled out of your mailbox, having it sent to a PO box is an excellent safety measure.
Collecting Packages From a PO Box
Besides their physical security, if you receive a lot of packages on different days, you may pick all of them up at once. Don't worry about your PO box overflowing or being too small for a parcel — if your mail won't fit in the post office box, the post office will hold it for you separately.
Quicker Delivery to PO Boxes
Your post office box is right at the post office. If you're waiting for an important package, it can often take all day for the mailman to make his or her rounds before arriving at your home. With a PO box you don't have to wait for a long time for your mail to be delivered. It's already there.
A post office box is an excellent way for both individuals and organizations to receive mail. It helps to maintain privacy and security, and it makes it possible for you to take better control of your mail. If you wish to maintain privacy, do not use your home address as your business address. Get separate post office boxes for separate functions.