USPS vs. UPS vs. FedEx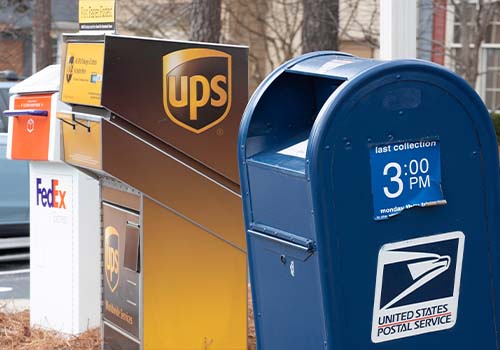 Shipping is a difficult thing to make time for and as such many people tend to favor one method of shipping over others. Of the major mail carriers, the most commonly-used to ship packages are USPS, FedEx, and UPS. Here is a bit of insight about each so that you can make your own educated decision about your preferred shipping company.
USPS
USPS is the oldest of the three shipping companies and probably the most well-recognized. When you see a mailman driving around the block depositing letters, that is USPS. The United States Postal Service runs each day and does deliver some special and priority packages as well as some Amazon packages on Sundays. They do not run on postal holidays. They also offer flat rate boxes that are a flat rate per box regardless of the weight of the item that is placed in it.
There are many shipping methods offered by USPS, including small flat rate boxes, medium, large, and even flat rate envelopes. This makes it easier to fill out your shipping labels and to print them at home, which also allows for at-home pickup.
Flat rate prices range from $6.70 for a flat rate envelope that is 12 ½" x 9 ½" to $18.90 for a large flat rate box that is 12 ¼" x 12 ¼" x 6". These flat rate boxes are shipped priority and are estimated to make it to their destination in 1-3 business days depending on the location. You can request flat rate boxes for free from your local post office then just pay for shipping when they are ready to mail off.
Items that are shipped first class or priority come with $50 built in insurance to help cover the cost of damaged items or in the case of lost or stolen mail. Physical post offices also offer stamps, the option to ship internationally, certified mail, and more.
FedEx
FedEx offers shipping, printing, binding of printed items, and they can also pack and ship items for you. FedEx rates are dependent on the overall size and weight of the package. FedEx also offers flat rate shipping, but it is a bit different than the shipping offered by USPS. For a FedEx flat rate package, the item cannot weigh more than 50lbs. Prices range from $7.65 for a flat rate envelope that is 9 ½" x 12 ½" to an extra-large flat rate box that measures 11 7/8" x 10 ¾" x 11" and ships for $28.05. Flat rate boxes come with $100 insurance automatically.
If you are not using a flat rate box or your own shipping boxes you can also purchase packaging supplies directly from your physical FedEx location, in the same way that post offices sell shipping supplies. FedEx offers a time-definite delivery and you can get your money back if they do not deliver by the promised day. For packages that are not going in flat rate shipping boxes, the prices are about $17 to send a 5lb package across the United States.
UPS
The last option we are going to discuss is UPS. This is a shipping service that has been around for a very long time. UPS also has flat rate boxes that allow shipments up to 70lbs and have up to $500 insurance automatically with a required signature for delivery. Flat rates are going to be determined again by the type of box you use. UPS has drop off locations including both physical stores and drop boxes. UPS ships based mainly on weight, but does take the size of the box into account. Rates may change from day to day and you can schedule a pick up at your home so that you can get your items picked up without having to take it to a physical location.
UPS does tend to cost a bit more and rates may vary from day to day as fuel costs change. UPS offers a range of shipping options and does sell packaging and shipping items in store so you can purchase what you need to ship on site. UPS ships internationally and does offer a tracking app as well as way of making sure that items have arrived at their destination.
What to Choose?
All three shipping companies offer some type of flat rate shipping that may cut the cost of the item you are shipping. All three also have at-home pick up options. All three companies also ship internationally if needed and do offer competitive rates that are based on the weight and size of the item that you are shipping. In the end, the best choice will often come down to mere convenience and who has the closest shipping location to you.