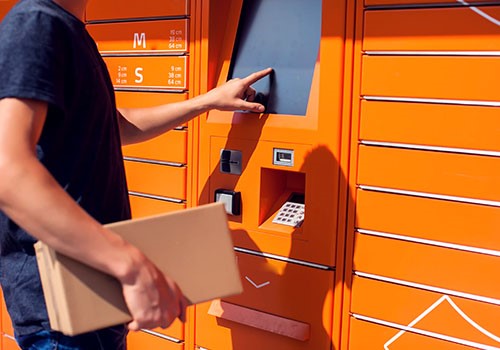 Are you waiting on a package delivery and seeing a strange tracking status mentioning a parcel locker? Perhaps you see the "Delivered to Parcel Locker" tracking status on your USPS shipment or Amazon order. If you live in an apartment complex, you likely are already familiar with these lockers. Many newer neighborhoods also have cluster box units (CBUs) and parcel lockers for mail and package delivery. So, what is a parcel locker, and how does it work? We'll tell you everything you need to know about this delivery method, including how it works and how to get your package.
What Is A Parcel Locker?
A parcel locker is nothing more than a lockable storage box where the postal service or other carriers can securely leave your package. Parcel lockers are used for larger packages that will not fit inside a traditional mailbox, cluster box unit, or PO box. Parcel lockers may be owned by the postal service or by third parties, like apartment complexes or even Amazon. Although some newer units are electronic, most of these lockers operate with a simple lock and key mechanism. This means that you can open the door to the locker with a PIN or QR code for touchless delivery.
How Do Parcel Lockers Work?
Package lockers are not complicated, and it is pretty easy to see how they work. First, consider parcel lockers at an apartment complex or larger neighborhood. The mail carrier will deliver your regular mail to your box within the cluster box unit. This is the unit where all the mailboxes for the neighborhood are housed. Most of the time, these boxes are only large enough to hold several letters or a small package. Larger packages will not fit inside the box. So, the mail carrier can place your larger package into the locker system.
There are typically several parcel lockers within a cluster box unit, and sometimes there are lockers of varying sizes. When the mail delivery occurs, the carrier can place your large box into a parcel locker. She then closes and locks the locker and puts a key to the locker in your regular mailbox. The key has a tag attached that shows you which locker you should open to retrieve your package. When you use the key to open the locker, you cannot remove the key once the locker is opened. You remove your parcel and leave the key inside the lock. The mail carrier can then use her master key to remove the key to the locker, place another package inside, and leave the locker key for someone else to retrieve their package.
In addition to the lock and key parcel lockers, some newer lockers are electronic. When you need to pick up your package, you can simply use a barcode or PIN to access the locker. The carrier, usually either USPS or Amazon, will send the access code to the package recipient. This means that only you can access the locker, so this restricted access keeps the package safe from theft.
USPS Parcel Locker VS. Privately-Owned Parcel Locker
The owner of parcel lockers often depends on your location. Many community mailboxes and parcel lockers are privately owned. This means that the property manager or community HOA has paid to have the mailboxes and lockers installed. Each resident owns his key, and the keys must be passed to the new resident if the owner or tenant changes. The owner is responsible for rekeying locks in these boxes if an owner loses his key. Many privately-owned cluster box units are under video surveillance to provide peace of mind to residents about the safety of their deliveries.
When it comes to parcel delivery lockers owned by the United States Postal Service, the rules are a little different. Keys are issued by USPS, and the postal service will duplicate keys for you at no charge. However, the post office keeps no duplicate keys. So, if you lose all your keys, the postal service will charge you to rekey the lock on your box. These USPS-owned lockers can be found inside the post office or at new USPS gopost locations. These locations include parcel lockers, and they also provide a way for you to send and receive packages. They are similar to USPS self-service kiosks, but they are standalone locations outside of the post office.
Most of the time, you only have dedicated access to a single box in the cluster box. This applies to both privately-owned and USPS-owned cluster boxes. Most parcel lockers are shared between all the tenants and used on an as-needed basis. When a large package is placed into a parcel locker, the parcel locker key is then placed into the mailbox of the recipient.
Benefits Of Using A Parcel Locker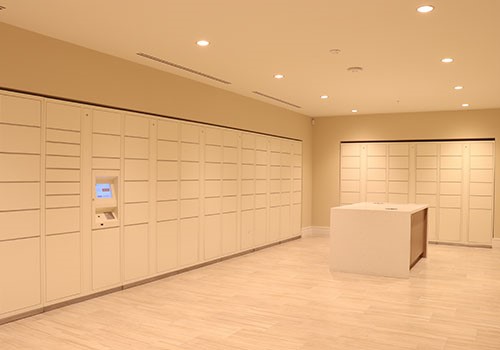 Not everyone has access to a parcel locker. In some cases, your package might have to be left on your front porch or doorstep. However, those who have access to a parcel locker might decide to use them for a number of reasons. Here are some of the most common reasons.
— Secure Package Storage
One of the biggest advantages of a package locker is security. These lockers provide a secure solution that allows the shipping company to deliver your package without the worry of theft. Only the recipient has the key or access code to the locker, so no one else can take the package. Unlike packages on your front porch, which might be subject to porch pirates, you don't have to worry about anyone stealing your package from a parcel locker.
— 24/7 Access
Another great benefit of a parcel locker is that you can access the locker 24/7. You do not have to worry about your schedule when figuring out a time to pick up your package. Some people might decide to hold their package at a FedEx location for security reasons. However, you must visit the location during business hours to pick up your package. A parcel locker can provide the same level of security, but the locker can be accessed 24 hours per day. So, no matter what time you arrive, you will be able to access the locker and get your package.
— Guaranteed Delivery
When you have easy access to a parcel locker as a delivery option, you can rest assured that your package will be delivered. Otherwise, you might get missed delivery attempts if you are not home when the carrier arrives. It is also less likely that your package will be delivered to the wrong place. Sometimes, street addresses can be confusing and lead to incorrect deliveries. However, when using a locker service, the odds are high that your package will be placed into the proper locker.
Where To Find Parcel Lockers
You can find parcel lockers in a number of different areas. First, you can find them inside the post office. These lockers are for PO box renters who occasionally receive a package that is too large. If the item does not fit inside the PO box, then the postal worker can place the package into a parcel box. They will then place the key to the box inside your PO box so that you can access your package. When you set up a PO box, there is nothing special that you need to do to have access to a parcel locker.
Next, these lockers are often found at the mail center of apartment complexes and neighborhoods. These lockers are often privately-owned, and they are maintained by the property manager or homeowner's association. Residents have access to these locker solutions so that they can receive large packages when necessary. You might also find similar boxes in the reception area of an office building. Small businesses who use virtual office space often take advantage of parcel lockers in office buildings to receive their packages.
Finally, you might find other privately-owned lockers, like Amazon lockers, in high-traffic areas around town. These smart lockers allow consumers to easily pick up their eCommerce or online shopping orders. Instead of spending many resources attempting to make the last-mile delivery of these packages, some businesses utilize these lockers to make the delivery of their packages. This allows the customers to rest easy knowing that their package is safe while also conveniently offering 24/7 access to their delivery.
"Delivered To Parcel Locker" USPS Tracking Status
So, how do you know when your package has been placed into a parcel locker? You should usually be able to tell by the tracking status. While you might sometimes find that your status simply says "Delivered," the status will usually be more specific. If your item has been placed into a parcel locker, the status will typically state, "Delivered to Parcel Locker." This lets you know that USPS has placed your package into a locker. Similarly, if you are using the Amazon locker service, you will see a similar update once the package has been placed into the locker. Many people use this service to prevent their Amazon packages from being stolen.
The Bottom Line
If you access your mail in a PO box or cluster box unit, you might wonder how you will receive larger packages or mailers. Don't worry! You will have access to a parcel locker where the mail carrier can place the package. You will be given a key or access code to the locker so that you can retrieve your package. These boxes may be either privately-owned or owned by the postal service. Either way, they function basically the same way, and they are a great delivery option for receiving large packages without the worry of theft.
Frequently Asked Questions
How do I access my parcel locker?
If the locker is a manual lock and key style, you will be given the key to access the box. Once you open the box, the key cannot be removed until the mail carrier uses his master key to remove it. If the lockers are electronic versions, you will be given either a PIN or access code. In some cases, a sensor on the locker can scan the barcode on your phone or device. This is a unique code that only you will have, and it will open the locker when scanned.
How long does a package stay in a parcel locker?
The length of time a package can stay in the locker depends on the owner's policy. Most of the time, packages will stay in the locker for at least a week. After this, the package might be removed and returned to the sender. However, you might find some lockers with owners who are less strict. In that case, your package might remain in the locker for a couple of weeks or more before it is removed.
What is the difference between a parcel locker and a mailbox?
Most mailboxes are not highly secure. They do not lock, and anyone could theoretically open the mailbox and remove your mail or packages. If you receive mail in a cluster box unit, your box will be locked. However, it will be quite small. A parcel locker is much larger and will hold packages that cannot fit inside the mailbox. The parcel locker is lockable and secure, and you can retrieve your packages from there.
How much does it cost to use a parcel locker?
There is no cost for using a parcel locker most of the time. The use of the locker is included with your mailbox or PO box. Some private companies might charge for using their service, especially if someone other than USPS is delivering to the box. There are some costs associated with running a parcel locker. Your property manager typically pays these maintenance costs.